Last reviewed by Dr. Raj MD on January 12th, 2022.
What are Hair Plugs ?
A lot of people used hair plugs and hair transplant interchangeably. The two terms are very much the same.
As a matter of fact, hair plugs are a type of a hair transplant. Although, hair plugs are an outdated type. For you to have a better understanding of what hair plugs and hair transplants are all about, the keep on reading this article. (1, 2)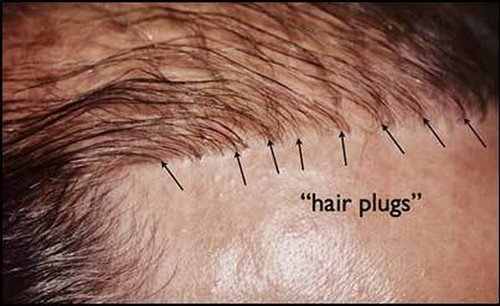 Photo 1: A patient with hair plugs.
Image Source: hairlosscureguide.com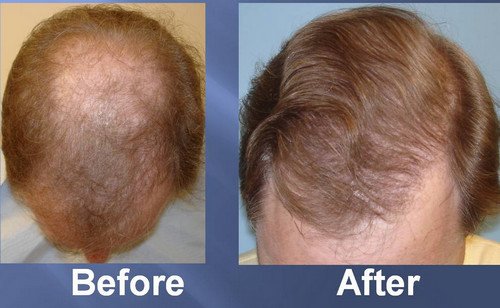 Image 2: A before and after photo of hair transplant using the latest method FUT, which shows a better result than hair plugs.
Picture Source: skinandhairdoc.com
Picture 3: Before and after hair transplant methods of John Travolta.
Photo Source: www.hishairclinic.com
Image 4: Lebron James sporting his new transplanted hair. he has a thick and fuller hair after the procedure.
Picture Source: thenypost.files.wordpress.com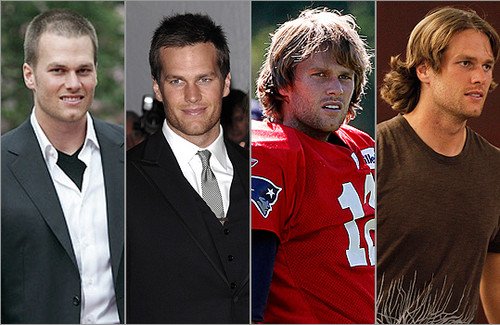 Photo 5: Tom Brady's before and after hair transplant look.
Image Source: www.rahalhairtransplant.com
What are hair plugs?
They are a type of hair transplant which was first performed in the 1950s. It involves getting rid of tiny pieces of tissues to get the hair plugs from the back of the head. It contains 20 or more hairs and will remove in rows starting from the back of the scalp.
The main goal is to move healthy hair from thicker patch of the hair on the scalp to the balding area. It would take multiple hair plug sessions to fully cover the bald spots. The number of sessions depends on the thickness and color of the hair and severity of the baldness. (2, 3, 4, 5)
What are hair transplants?
A hair transplant is a general term for different types of surgical procedures that involve moving hair follicles from one part of the body to another. The donor site is the part of the body where the hair is taken out and the recipient site is the part that receives hair follicles. As years passed by, new hair transplant methods were developed, which made hair plug technique obsolete. (4, 5)
Hair plugs vs hair transplant
Hair plug uses a large amount of tissue from the donor site. The procedure itself requires removing more than 20 hair per plug in a random manner. If a large hair plug is removed, it would leave a large white circular scar. Once the site is completely healed, it would create a polka dot appearance on the scalp. It would also lead to artificial looking hair growth.
There is also a possibility that the transplanted hair would not blend with the rest of the original hair. It is an invasive procedure. That is why many surgeons no longer perform hair plugs. They prefer the new hair transplant methods, which are less invasive. (4, 5, 6)
Hair transplant procedures have changed a lot as time passes by. New hair transplant methods allow for natural hair growth that blends in with the original hair. In fact, you can barely notice which area of the head has a transplant.
Modern hair transplant methods include Follicular Unit Transplantation (FUT) and Follicular Unit Extraction (FUE). Follicular unit extraction is an intricate and time-consuming procedure, but the result is great. In fact, no one will be able to notice that you have a hair transplant. (4, 6, 10)
Types of hair transplants
Micro-graft – It transplants one or two hairs at a time.
Mini-graft – it transplants two to four hairs at a time.
Slit grafts – An incision into the scalp is made which will serve as a placement of the graft. Using this method, four to ten hairs are transplanted at a time.
Punch grafts – They usually contain 10 to 15 hairs and are round in shape.
Strip grafts – About 30 to 40 hairs are transplanted. They are long, thin, and rectangular in nature. If there is a severe balding, the surgeon can transplant 50 plugs at a time. (6, 7, 3, 8)
Hair plugs surgery in detail
Before the procedure
The doctor will thoroughly assess the condition of the patient to determine if he/she is fit to have hair plugs. If the patient is eligible, then he/she shouldn't drinking alcoholic beverages, smoking cigarette, and certain types of medications before the procedure.
During the procedure
Hair plug procedure can be done at the doctor's office or at a surgery center. The procedure is done under local anesthesia. The hair of the patient will be trimmed short so that it would be easy for the surgeon to remove the graft. The surgeon will remove a small graft of hair from the site.
To keep the graft from losing its strength, the surgeon will inject a small amount of saline. Once the graft is removed, the donor site is closed and the surgeon will divide the graft into small sections. The surgeon will then create small holes in the balding area where the hair will be inserted.
After the procedure
Right after the procedure, the surgeon will clean the scalp and cover with a gauze. The patient will be strongly advised to wear a pressure bandage for a few days. The patient will take antibiotics, anti-inflammatory drugs, and pain reliever to hasten the recovery time.
The patient is also discouraged from performing strenuous activities on the first 10 days post-surgery. These include contact sports, sexual activity, and other forms of strenuous activity. After a few days, the stitches and bandage will be removed.
The hair will be gently washed too. Usually, patients will notice hair loss on the transplanted hair a few weeks after the surgery. Do not panic. It is a normal reaction. Once the hair is gone, new hair will eventually grow. It would take a few months for the hair to completely grow. (2, 4, 8, 9)
Are there any risks?
Just like any types of surgery, there are risks involved. Do hair plugs hurt? When the anesthesia wears off, you will experience pain, but it is bearable. You will be prescribed pain medication that you can take if the pain gets unbearable. You should follow the aftercare procedure to prevent infection and bleeding. There is a possibility of wide scars. In fact, there are instances when the plug died. (10)
How much is the cost of hair transplant?
The cost of hair transplant typically ranges between $4,000 and $15,000. There are a number of factors that affect the pricing such as the type of hair transplant, where you live, and the professional fee of the surgeon. Experienced surgeons charge a higher fee than new surgeons. Many insurance companies consider hair transplant a cosmetic procedure. (1, 4, 6)
Celebrities with hair plugs
John Travolta – The Saturday Night Fever star has now has his thinning head of hair full as it was before. It is strongly believed that he has a hair transplant.
Lebron James – This basketball superstar's receding hairline looks a little fuller after getting a hair plug.
Tom Brady – The good looking athlete, Tom Brady has undergone a hair transplant. His father has bald patches. Tom is already aware that he carries male pattern baldness in his genes. He covers his bald patches with long and flowing hairstyles. He used hair growth products but later on decided to have a hair transplant.
Conclusion
A hair plug is an old form of hair transplant. Many surgeons are now using modern hair transplant method, which is low risk and offers great results for men and women. The hair is the crowning glory. A beautiful and full hair gives a confidence boost. Through hair transplant, it is not only the hair that is restored but the confidence too.
References:
https://en.wikipedia.org/wiki/Hair_transplantation
http://limmerhtc.com/hair-plugs-vs-hair-transplants/
https://www.hshairclinic.co.uk/news/fue-hair-transplant-vs-hair-plugs/
https://www.hairphysician.com/hair-plugs-vs-hair-implants.html
https://canadianhair.ca/blog/difference-between-hair-plugs-and-hair-transplants/
https://www.hairlossrevolution.com/hair-plugs-definitive-guide/
https://www.symptomfind.com/procedures-tests/what-are-hair-plugs/
https://www.hairtransplantmentor.com/hair-plug-transplants/
http://hairlosscureguide.com/hair-plugs-versus-hair-transplant-which-one-should-you-choose/
http://nationalhair.com/fue-hair-plugs-thing-past/
Leave a Reply