Last reviewed by Dr. Raj MD on January 12th, 2022.
For many people, having mucus in eye is a concern. It is normally found in the corner of your eye and accumulates while you sleep. Mucus in eye is also referred to by some people as eye boogers, eye gunk, and goop.
Types of Mucus in Eye
When you see your eye doctor for mucus in eye it may be difficult to describe what it is but it is very important that you can characterize the consistency and color of the mucus in eye because there are medical conditions that are associated with different types of mucus in eye. The different types of mucus in eye discharges and what medical condition they could be associated with include:
Thick gray or green — this could be caused by a bacterial such as bacterial conjunctivitis, which could cause your eyelid to be completely stuck shut when you wake up in the morning. This type of infection is caused by the pus-producing bacteria called pyogenic. It can cause your symptoms such as irritation and redness.
Yellow — along with the color of mucus in eye you may also notice a small nodule or lump on your eyelid. These can be caused by a stye, which usually develops from an eyelid oil gland that becomes clogged from excess bacteria, debris, or oil, or an eyelash follicle. A stye can also cause pain when you blink and may appear as a tiny red spot to begin with. If you attempt to release the mucus that is trapped in the eyelid gland by squeezing it like you would a pimple it is advisable that you do not because you could develop a skin infection.
Yellow or white mucus balls — if you see these mucus balls in your watery tears it is normally a sign of having a medical condition called dacryocystitis. This is an infection of your tear drainage system, also known as your nasolacrimal sac. If you have this medical condition, you may have swelling and redness around the nasal part of your eyelid along with facial pain. In your eyelid, there is a small drainage hole called your puncta, and you may also see a discharge coming from this area. If it is not treated with antibiotics promptly, it can become a serious medical condition.
Thick and crusty — if you notice this on your eyelashes and eyelids it could be caused by a medical condition called blepharitis, which causes a flaky debris at the bases of your eyelashes and is a common problem in adults and children. It is a medical condition that is uncomfortable and will usually produce itchy, inflamed eyelids. They are two types of this medical condition, which are ulcerative and seborrheic. It is normally caused by bacteria that are found on your skin and it can grow and affect your eyelashes and eyelids. It can also be caused by viral conjunctivitis, bacterial infections such as gonorrhea or chlamydia, irritants or allergic reactions such as pool chlorine, shampoos, smoke, and dust.
White and stringy — this type can represent allergic conjunctivitis, which can cause an inflammation of the conjunctiva of your eye as a result of being exposed to an allergen. Your conjunctiva is what helps to lubricate your eye by producing tears and mucus. This allergen response could produce material and deposits that stick together collecting under your lower eyelid on inside of your eye. It can cause swelling, increased tearing of your eyes, redness, and itching.
Watery — when you have this type of mucus in eye it happens with a small amount of mucus is mixed with watery tears. It is usually caused by a virus and causes viral conjunctivitis, which is a contagious eye infection. It is also referred to as epidemic keratoconjunctivitis (EKC) and is an inflammation of the conjunctiva and cornea, which is the tissue that covers the iris of your eye. This inflammation can last as long as thirty days. It can cause many different symptoms such as blurred vision, the feeling of having a foreign body in your eye sensation, eyelid swelling, and redness. Often this form of conjunctivitis is associated with upper respiratory illnesses that are caused by a viral infection. Your eyes will usually water excessively because of the irritation and inflammation.
Dry small particles — when you awake in the morning and find mucus in eye that are small dried particles it is often a sign of dry eyes, also known as dry eye syndrome. Your tears are made of many different ingredients but mostly of mucus, oil, and water. If the amount of water in your tears is decreased the oil and mucus will stick together. When they dry out as you sleep they end up in the corners of your eyes when you awake. It can also be from allergic conjunctivitis and is often caused by substances that can cause allergies such as pollen, mold, and dander.
Sometimes when you have mucus in eye it could be the first symptom of pink eye, which is highly contagious. It is also known as conjunctivitis and is the inflammation or infection of the outermost layer of your eyeball.
Pictures of Mucus in Eye
Picture of mucus in eye that is think and yellow in color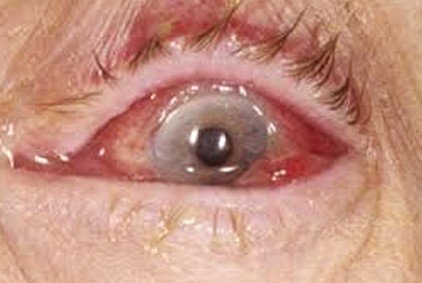 Watery mucus in eye
Thick and crusty yellow mucus in eye
When to call your Physician or Eye doctor
You should see your physician or eye doctor if the symptoms do not go away in a few days or they start to become worse. If you have redness that is spreading, swelling around your eye, difficulty seeing, have a pus-like discharge from your eye, rash near your eye, or tingling or burning sensation in your skin near your eye you should see medical treatment immediately. If you have continuous mucus in eye you should also seek treatment but if it occurs occasionally you may not need treatment.
Home Remedies for Mucus in Eye
Water and honey — mix equal amounts of water and honey together and gently apply to your eyes to help get the mucus out. It could also help you find out what the cause of the mucus in eye is. You should do this treatment the first time you see the mucus in eye so it will get rid of it and can get to the cause of the problem quickly.
Fennel seeds — boil the fennel seeds and cool mixture. It can help those that develop mucus in eye often or in large amounts. Dab the water lightly on your eyes but be careful not to get any fennel seeds in your eyes. You can strain the liquid first if you want to get rid of the seeds.
Aloe Vera — use a cotton ball to get a small amount of aloe Vera gel and apply it directly to your eyes. The mucus in eye will be gone in a few minutes and you will notice relief.
Wet a washcloth in warm to hot water, wringing out the excess water. Gently press it onto your eyes, leave on a few minutes, and then softly wipe your eyes toward the outside corner. You may have to repeat this several times to get rid of all the mucus. Make sure that you use a different washcloth on each eye and when you wipe your eye change the area of the washcloth each time you was the eye. If you have an infection you should not use this treatment because you could accidently spread the infection to the other eye.
Make sure that before you touch your eyes that you wash your hands so you are not transferring germs to your eyes.
Do not sleep in your contacts as they can irritate your eyes.
Leave a Reply