Last reviewed by Dr. Raj MD on January 12th, 2022.
What is Episcleritis?
This medical condition is an inflammation and irritation of the episclera and is benign, or non-cancerous. The episclera is the thin layer of tissue between the sclera, which is the white part of your eye and the conjunctiva, which is the covering of your eye. It can affect both eyes or just one. It is a medical condition that is most often seen in women and usually occurs between the ages of forty and fifty years of age. Episcleritis is very rare in babies and children under the age of five. If they do get this medical condition it is just a mild inflammation that only lasts for seven to ten days and is referred to as simple episcleritis. It does not affect your vision.
There are two varieties of episcleritis which are:
Diffuse episcleritis – this variety is where the episclera is affected diffusely
Nodular episcleritis – this variety is where there are nodules present.
Episcleritis vs Scleritis
When a person has scleritis they have an inflammation of the white portion of your eye called the sclera while episcleritis is an inflammation of the layer of tissue between the white of the eye, called the sclera and the covering of your eye called the conjunctiva. Although there is a difference as to which part of your eye is affected the main difference is the pain felt with both of them. Usually you have more pain with scleritis. Another difference is that if you use phenylephrine will not blanch the vessels in scleritis but will if you have episcleritis. Scleritis is a more serious medical condition and is more prominent in young women. When a person has episcleritis it will usually not develop in scleritis. While episcleritis affects people between the ages of forty and fifty, scleritis affects people between the ages of thirty and sixty. With episcleritis it will usually go away on its own but if you have scleritis and the sclera has perforated you may have to have surgery.
Symptoms of Episcleritis
The symptoms are usually mild with the main symptom being acute redness and eye pain that is mild. Other symptoms may include the following:
The normally white part of your eye may also be a purple or pink color instead of being acute redness.
Eye tenderness
Having a sensitivity to light called photophobia.
Watery eyes but there is no discharge.
If a person has diffuse episcleritis the redness could involve all of the episclera but in nodular episcleritis the redness will only affect a well circumscribed area that will be small. Also in nodular episcleritis there may be in the center of the redness a white nodule of tissue. In addition, diffuse episcleritis is not as painful as nodular episcleritis. In some cases there could be small nodules present within the episclera. If there are with gentle pressure they will move slightly over the sclera.
Episcleritis Causes
The exact cause of episcleritis is not known making it an idiopathic medical condition but there are several medical conditions that are thought to be the cause, especially inflammatory conditions such as:
Arthritis, especially rheumatoid arthritis.
Lupus
Irritable bowel disease such as colitis.
Irritable bowel syndrome
Other underlying conditions that are thought to be may be the cause includes:
Rosacea
Gout
Stress
Menstruation
Autoimmune disorders and diseases such as sjogren syndrome.
Allergies
Hay fever
Addison's disease
Chlamydia
Lyme disease
Tuberculosis
Herpes simplex infection or herpes zoster.
It is not known what the cause is when babies and children under five years of age have episcleritis but in older children it is often associated with rheumatologic diseases. If a woman has episcleritis during her pregnancy or during the lat phase of her menstruation cycle it is thought that there is a connection between the episodes of inflammation and hormonal changes. The reason is that a woman may notice flare-ups of this medical condition during these times. In approximately one third of all cases of episcleritis what causes it is known. Fifty-nine percent of people with relapsing polychondritis, which is the deterioration and inflammation of cartilage, have either scleritis or episcleritis. It is very rare for scleritis to cause episcleritis. In many cases of nodular episcleritis there may be an associated systemic disease, which is a disease that affects your whole body, or just your tissues and organs.
Diagnosis
Having an eye exam can usually be done to diagnosis episcleritis. A patient history will also be taken to see if there are any diseases or medical conditions present that could possible cause episcleritis. In order to tell if you have episcleritis or scleritis the eye doctor can use either neosynephrine or phenylephrine eye drops to see if the blood vessels blanche.
Treatment
Normally episcleritis is a mild inflammation and will go away on its on within seven to fourteen days without treatment. Nodular episcleritis will take longer to clear up as it is more aggressive. If there is any pain or discomfort you can use an over-the-counter saline solution called artificial tears. You can even use a cold compress to help with the discomfort. If the saline solution is chilled it can soothe the area that is inflamed. In a severe case of episcleritis, such as nodular episcleritis, the eye doctor may prescribe an anti-inflammatory and/or mild steroid eye drop. These medications can help make the symptoms go away quicker but there are side-effects that could be worse than the actual medical condition.
Episcleritis Pictures
Collection of pictures of Episcleritis…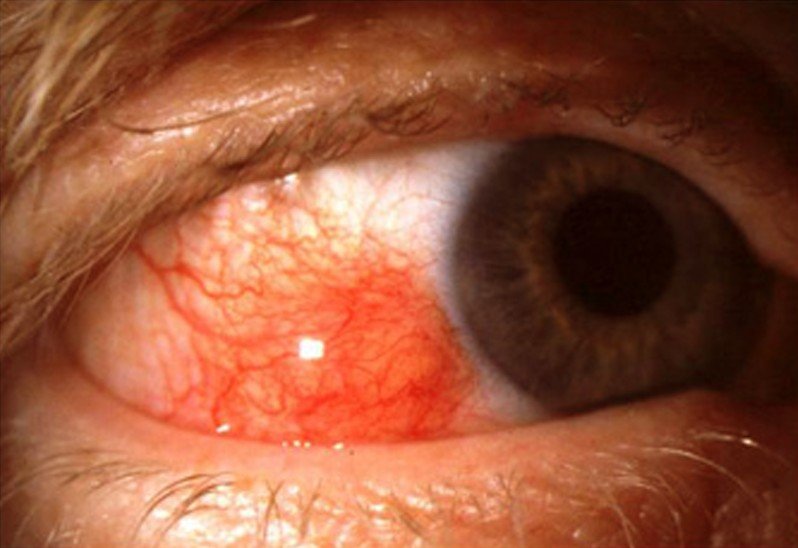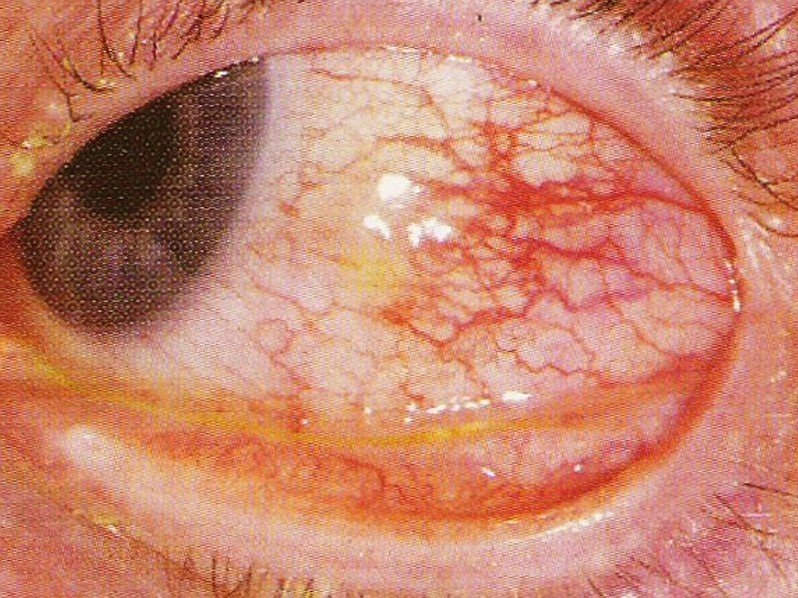 Leave a Reply