Last reviewed by Dr. Raj MD on January 12th, 2022.
Forehead acne is not a pleasant thing to experience, especially if you are a teenager. So, when it comes to such problems, the first and most important thing that you have to do is identify the exact cause. Once you know the cause, you can take action and remedy it. Apart from that, if you know the cause, you can also pursue the right treatment for the forehead acne.
Causes of Forehead Acne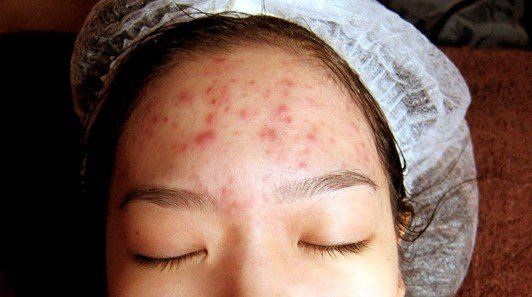 These are the most common causes that can lead to the appearance of forehead acne:
Clogged pores

Main cause of forehead acne (and not only)
Forehead – excess production of sebum (T-zone)
Oily skin → clogged pores → forehead acne

Dandruff

One of the common triggers of acne (forehead hairline)

Oily scalp

Oil buildup → clogged pores → forehead acne

Medication

Birth control pills → trigger → forehead acne

Gastrointestinal problems

Digestive problem → negative impact on body balance → forehead acne

Prolonged or constant stress

Stress → hormonal imbalance → forehead acne

Hair products

Forehead acne triggers – hair serum, hair spray or heat protectant
Especially risky when using them on your bangs (direct contact with the forehead)

Excessive exfoliation

Exfoliation → positive effect → removal of dead skin cells (fresh appearance)
Excessive exfoliation → skin irritation + forehead acne → not more than twice per week (in order to avoid such effects)

Wearing accessories (hats, caps etc.)

Increased risk for acne breakout at the level of the forehead (+bacterial overgrowth)

Hormonal changes (puberty, menstruation)

Menstruation → increased risk for forehead acne
Puberty → hormonal change → forehead acne.
Treatment for Forehead Acne
These are the treatment measures that can be taken for forehead acne lesions:
Benzoyl peroxide

Apply a thin layer on the forehead
Anti-bacterial effect
Should be used between 4 and 6 weeks
If the results are not noticeable, the treatment should be continued

Lactic/glycolic acid

Spot-on treatment
Alternative – hydroxyl acid
Purpose – dry out the pimples or other acne lesions; also has a peeling effect
Anti-inflammatory effect

Salicylic acid

Exfoliating properties
Twice per week application
Elimination of dead skin cells at the level of the skin
Penetrates the hair follicles, prevents the clogging of the pores.
Forehead Acne Natural Remedies
These are the most important natural remedies that can be considered for forehead acne:
Clay mask + tea tree/lavender oil

Thin clay mask
Add tea tree oil or lavender oil
Apply the mask directly on the forehead
Can be kept overnight and rinsed in the morning with warm water
Purpose – fresh and supple skin

Apple cider vinegar

Use a cotton swab to apply it directly on the forehead
Recommended application – 1-2 times/day
Useful for both zits and blemishes
Can be used with diluted water
Should never be used for rinsing the face

Lemon juice

Freshly-squeezed lemon juice directly applied on the skin
Best result left overnight
Avoid stepping out in the sun, as the lemon juice increases the sensitivity of the skin (high risk of sun damage)

Mustard powder + honey

Mustard → natural salicylic acid → active ingredient in acne medication
Mustard also rich in vitamin C, zinc and fatty acids → glowing skin
Honey → antibacterial properties

Tomato mask

Tomato → cut → direct application on the forehead
High content of antioxidants → positive effect on the acne lesions
Not to be used excessively → dryness → best diluted to prevent such problems (no more than twice per day)

Essential oil bath

Recommended choice – lavender oil
Fresh and rejuvenated skin

Eggs

Recommended – white part of the egg applied directly on the skin
Can be maintained on the forehead for a longer period of time

Coriander juice

Coriander juice + turmeric powder/mint juice
Recommended as overnight treatment
Quick healing process of forehead acne

Wheat grass juice

Drink one glass of wheat grass juice per day
Keep the forehead acne lesions under control
Can also be useful for clearing acne scars

Witch hazel

Astringent effect on forehead acne
Prevention of clogged pores at the level of the forehead

Garlic

Fresh cut garlic cloves applied directly to the forehead area

Milk

Milk + freshly-squeezed lime juice
Use the mixture to wash your face
Wonderful effect on blackheads
Hydrates the skin (no more dry and flaky skin)

Baking soda

Baking soda + water
Beneficial effect on enlarged pores, oily skin and blackheads.
Pictures of Forehead Acne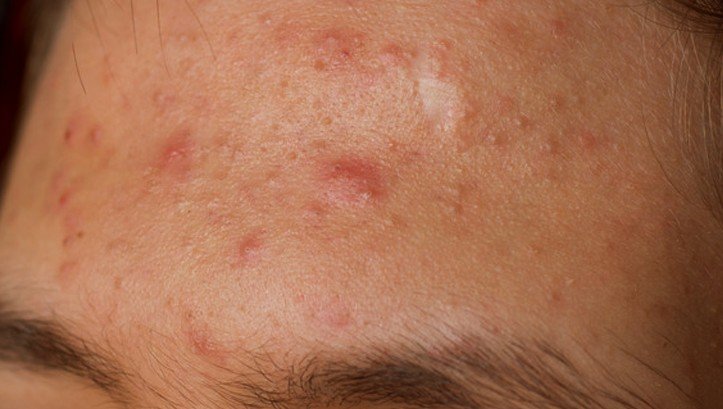 Self-care measures
These are the self-care measures that can be taken in order to improve the forehead acne:
Daily skin care routine

Cleanse + tone + moisturize
Purpose → keep pores unclogged → avoid forehead acne
Oil-based moisturizers should not be used on the forehead

Anti-dandruff shampoo

No dandruff, no forehead acne
Should be used instead of the regular shampoo

Well-balanced diet

Elimination of digestive problems (triggers of forehead acne)
Avoid spicy and fatty food
No fast or junk food
Diet should include fresh fruits and vegetables
Adequate water intake → skin hydrated → no forehead acne

Regular physical exercise

Daily exercise → healthier and clearer skin
Perspiration → unclogged pores → form of detox
Clear pores → clear skin → no forehead acne

No chemical exfoliating agents

Acne → sensitive skin
Exfoliating agents → chemical substances → increased irritation at the level of the skin → higher chance of forehead acne
Alternative (natural) → sugar and banana scrub → great exfoliating properties

Keep your accessories clean

Hats and caps → +sweat → bacterial overgrowth → prone to forehead acne
Maintain excellent hygiene → no breeding ground for bacteria → no risk of forehead acne

Avoid using hair styling agents on your forehead

Hair styling agents → irritation + sensitive skin → forehead acne
High content of chemicals → front bangs → acne trigger

Use products for acne-prone skin

Face wash + cleanser + toner + moisturizer (dermatological formula for acne-prone skin)
No oil-based products (increased risk for forehead acne)
Choose scalp treatments for oily skin (keep the scalp clean, reduce the chance for acne)

Eliminate stress

Meditation + relaxation + deep breathing
Yoga can also be used to keep stress under control.
Leave a Reply