Last reviewed by Dr. Raj MD on January 12th, 2022.
What are Porcelain Braces ?
Orthodontic dental braces are a fashion statement, especially to teens. There are tons of colors and styles to choose from. However, if you are an adult, you will surely shy away from colourful dental braces. You want to make your braces unnoticed.
If you want to straighten your teeth minus the childish designs, then all you need is porcelain brace.
Porcelain braces are designed to fit the lifestyle of adults. They blend with the natural color of the teeth, which make it hard for other people to recognize you are wearing braces. (1, 2, 3)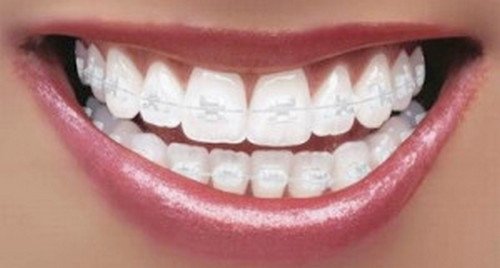 Image 1: Porcelain braces have the same color as the teeth making them less visible.
Photo Source: bestceramicbraces.com
Picture 2: Metal braces, one of the commonly used braces today.
Image Source: s3-media3.fl.yelpcdn.com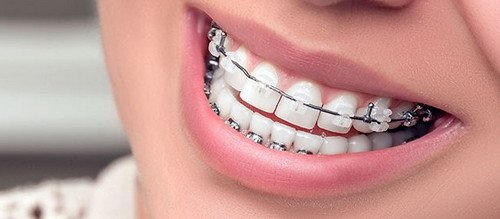 Photo 3: The patient has a porcelain brace on the upper teeth and metal brace on the lower teeth.
Picture Source: www.karencrosby.co.uk
Image 4: Ceramic braces look like a retainer.
Photo Source: www.medlt.com

Picture 5: A comparison image between a metal brace and a porcelain brace.
Image Source: www.lakejacksondentalcare.com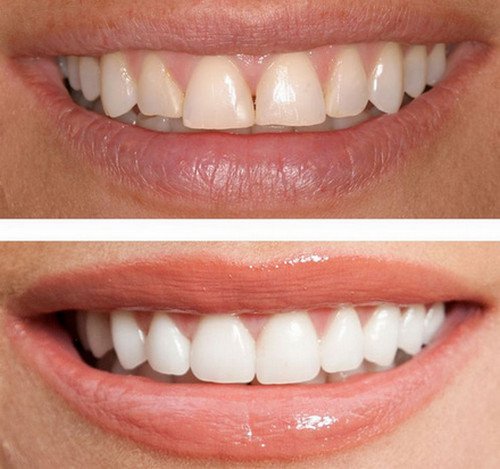 Photo 6: Before and after porcelain veneer.
Picture Source: i.pinimg.com
Porcelain braces pros and cons
Advantages:
Aesthetically appealing. Porcelain braces were created with aesthetic in mind. The porcelain brackets can resist stain provided taken care of the right way. The band that holds the arch wire is usually clear to match the color of the brackets.
High-tech dental materials. Porcelain braces are a high-tech orthodontics advancement.
Porcelain braces are less visible (2, 3, 4)
Cons:
Dental treatments using porcelain braces take longer than dental braces made from metal materials.
Porcelain braces cause more friction to the wire, which slows down the movement of the teeth.
Porcelain braces are not as sturdy as the metal counterpart.
Porcelain braces are prone to breakage and so you should completely avoid hard and sticky foods.
Porcelain braces should not be worn by people who are involved in contact sports.
Porcelain braces are larger than metal counterparts.
They are more expensive than metal braces. (3, 4, 5, 6)
Porcelain veneers vs braces
Porcelain dental braces are referred to as clear dental braces, but in reality they are not clear. A metal wire is still needed to move your teeth. If you want your braces to be less noticeable, then a porcelain brace is a good choice. On the other hand, porcelain veneers are life-like ceramic attached to the teeth to create a beautiful smile. Porcelain veneers are life-like ceramic that functions like a real dental enamel.
It corrects a variety of dental problems such as discoloration, chips, and cracks. In fact, it can even correct advanced orthodontic problems. Since it is a cosmetic procedure, it does require upkeep and sometimes replacement. At the end of the day, it is how you take good care of your oral health. Veneers are permanent but prone to damage when not taken care of properly.
Porcelain veneer requires an extensive dental procedure. The dentist will remove a layer of the enamel. To begin with, you should have a good dental health prior to veneer procedure. If you have oral problems, they should be addressed first before placing veneer. Some patients are required to be on dental braces first before a veneer is placed.
Porcelain braces' primary function is to straighten or adjust the position of the teeth. It also helps improve the bite and the overall health of the teeth. Braces have four basic components namely the brackets, wires, rubber bands, and a bonding glue (dental glue). (6, 7, 8, 9)
Porcelain braces cost
The cost of dental braces varies but a mental brace costs $3,000 to $7,000 on the average. A porcelain brace is more expensive than the metal counterpart. The average cost is $4,000 to $8,000. Some insurance providers cover the partial payment for orthodontic treatment.
So, you should check beforehand with your insurance provider for the specifics of what your policy covers. (7, 8, 9, 10)
Why choose porcelain braces over metal braces?
Porcelain braces are far better than the metal brace, although both have their share of pros and cons. Metal braces cause wear and tear on the mouth. One of the common complaints of people who wear metal braces is mouth sores. They are also prone to irritation due to metal rubbing against the soft tissues in the mouth.
Metal braces contain nickel and truth be told, some people are allergic to nickel. Some people simply don't like the idea of wearing a metal in their mouth. Not to mention, metal braces require diligent care.
Having braces, be it made from metal or porcelain requires regular dental visit. The brace will be tightened as the teeth move. The brace will remain in your mouth for a few months of years depending on the overall condition of your teeth and how fast your teeth responds to braces. Your diet will be altered too because some foods are impossible to eat while on braces.
Does your mouth sore or hurt while on braces? The answer is yes! In fact, you may feel uncomfortable during the brace adjustment. If needed, you may take over the counter pain reliever to relieve the pain. (2, 4, 6, 7)
Which one works for you?
Dental braces are worn by people with dental-related problems such as crooked teeth, misaligned bite such as overbite and underbite, to name a few. Braces are just one of the treatment approaches for dental issues. There are a lot more such as retainers and surgery when deemed necessary. For irregularities of the teeth, you should consult an orthodontist.
He will make you aware about all available options. Whatever treatment you choose, the bottom line is it will require a lifelong commitment to your overall health. Your teeth should not only look white, they also need to look and feel fresh and healthy.
The dentist will ask all important details about your teeth and overall health. A thorough clinical exam is done to take impressions of your teeth. An x-ray of the mouth and head are also needed so that the dentist will be able to take the appropriate treatment plan. (1, 8, 9, 10)
References:
https://www.animated-teeth.com/dental-braces/c1-ceramic-braces.htm
https://happytoothnc.com/ceramic-braces-vs-traditional/
https://oralb.com/en-us/oral-health/life-stages/braces/types-of-braces
https://www.1800dentist.com/porcelain-dental-braces/
http://www.tsorthodontics.com/pros-and-cons-of-ceramic-braces-by-asheville-nc-orthodontist/
https://www.realself.com/question/ceramic-braces-vs-metal-braces
http://bestceramicbraces.com/
http://www.lakejacksondentalcare.com/is-it-true-ceramic-braces-are-better-than-metal-braces
https://www.livestrong.com/article/191756-clear-braces-vs-metal-braces/
https://www.mykoolsmiles.com/content/how-much-do-ceramic-braces-cost
Leave a Reply